Feeling Lucky? Get Ready For Puppy Pooper Bowl I
Join us live on Facebook on Sunday, February 13th at 12:00 pm for a "Tail-gate" game like no other; our first annual "Puppy Pooper Bowl"! This game of chance will not only feature some of our adorable puppies, but will give participants a chance to win a top prize of $250 by selecting the square they think will get pooped on first! The best part? Every dollar raised will directly benefit the over 3,400 homeless pets in our care each year! Learn more here or purchase your square below!
2021 Was a Record Breaking Year!
Happy New Year! Our tails are wagging and we are celebrating all of the success that Tails Humane Society had saving lives and finding happy homes in 2021. Last year at Tails, we broke our previous records and cared for just over 3,400 homeless animals! Yes! That is amazing news, but we couldn't have done it without YOU! The combination of YOUR support, donations, adoptions and the incredible work of our shelter team, our volunteers and our fosters all helped to make this year the best one yet! THANK YOU for all that you do for the animals in our care!
Be sure to watch our website and Facebook page for the big reveal of our full 2021 life saving statistics.
Love Stinks! Anti-Valentine's Day Fundraiser Coming Soon!

Ahh Valentine's Day! Roses, chocolates and cards fill the stores and love is in the air... Unless like many of us, you're single and just not interested in celebrating. Angry at your ex? Friend zoned one too many times or just want to make your pal laugh with a "Love Stinks" joke? Don't worry, the cats at Tails Humane Society have your back! For a $10 donation, we'll write a name of your choosing on a piece of paper and add it to one of our litter boxes and the cats will take care of the rest!
Interested in participating in this fun fundraiser? Stay tuned to our Facebook page and website for more details soon!

Sadly, the world recently lost a true friend to the animals, Miss Betty White. To celebrate what would have been her 100th birthday, fans around the globe challenged others to donate to their local animal shelter in her honor.
As always, your generosity has blown us away! Hundreds of fans have come together to raise over $17,000 for Tails Humane Society in memory of Betty White. Wow ... just wow!
Saving 3,400 homeless pets each year just got a little bit easier because of you. THANK YOU for being a friend!
December 2021: Happy Tails!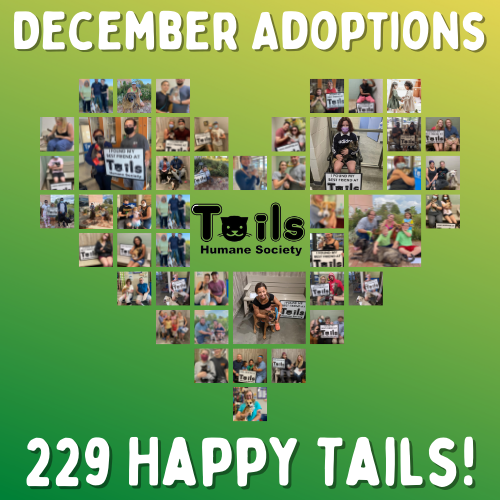 Time to Celebrate! During the month of December, 229 pets were adopted from Tails, bringing our year to date total to 2,841 animals adopted! Wow! Those are a lot of Happy Tails in happy, forever homes!
December 2021 Adoptions
111 Cats and Kittens
110 Dogs and Puppies
8 Little Critters
View our adoptable pets here and don't forget to check out all of the amazing long term dogs in our Forget Me Not Club!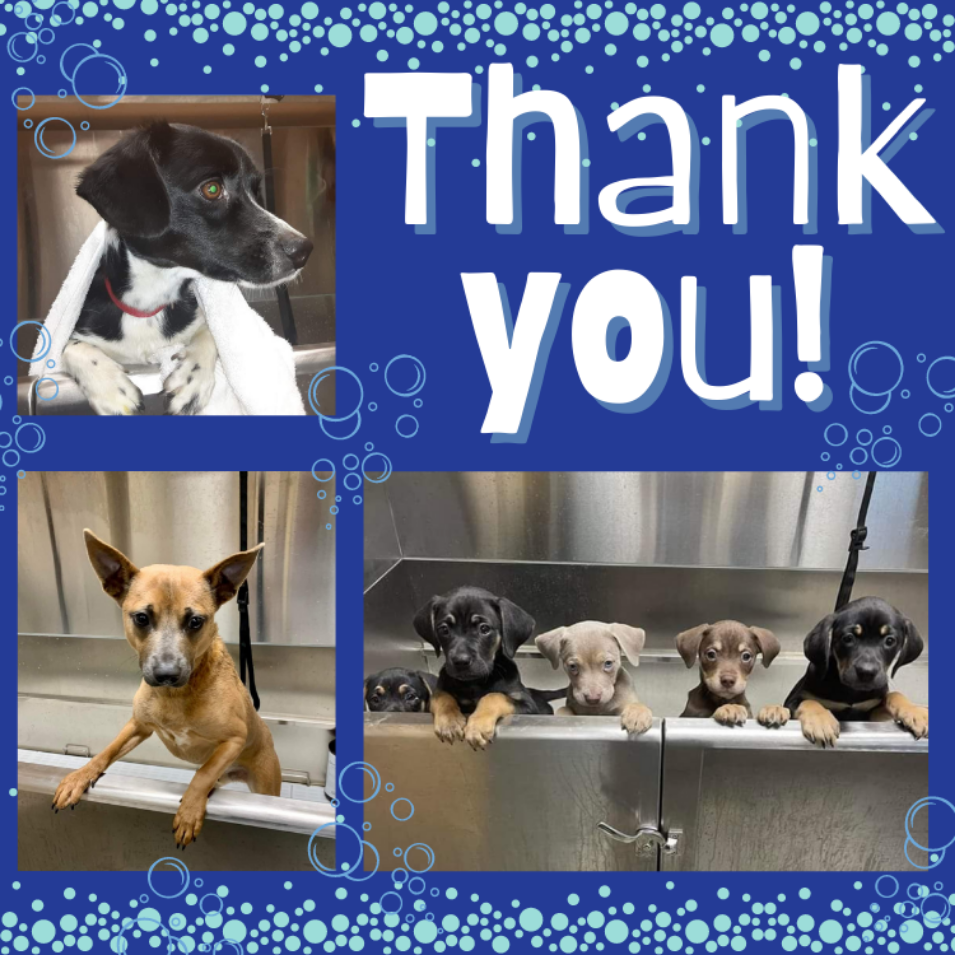 Oh so fresh and so clean! The homeless pets at Tails just got their very own bath station! Whether we are bathing an animal after transport for disease control or cleaning off muddy paws, this new tub will provide a safe and efficient way to keep our animals feeling and looking their best. This much needed project was funded by a Fall Community Needs grant from the DeKalb County Community Foundation (IL)! Please join us in thanking the DeKalb County Community Foundation and their donors for generously funding the grant that made this possible. Thank you for supporting the animals at Tails Humane Society!
Make A Resolution To Save Lives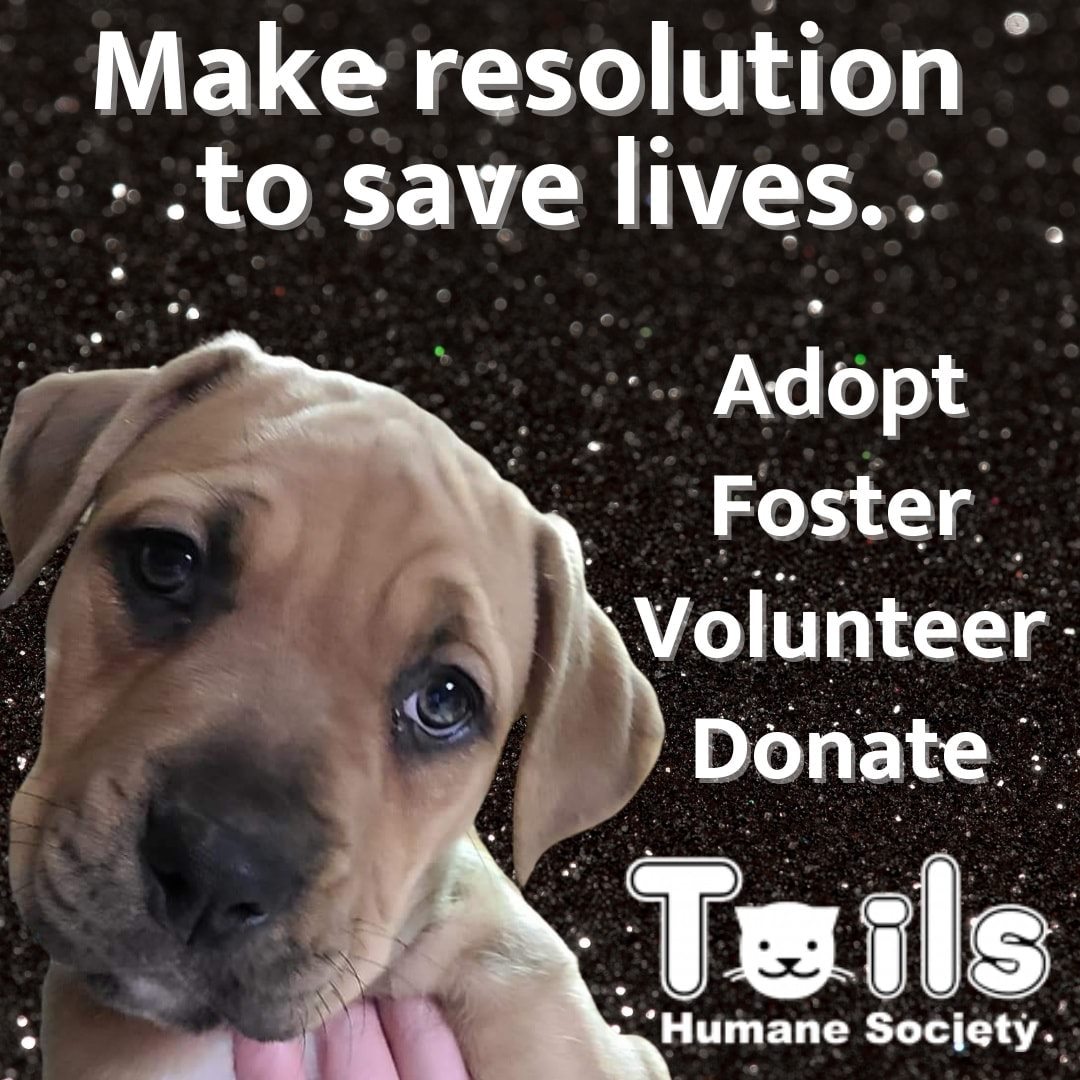 This year, make a resolution to help Tails Humane Society save lives. It wont take much time and your promise will do so much good for the over 3,400 homeless pets that make their way trough our doors each year. Whether you make a resolution to adopt, foster, volunteer, donate or simply share our posts and events, everyone CAN make a difference and together, we can save more lives.
For all you do to support the homeless animals in our care, thank you!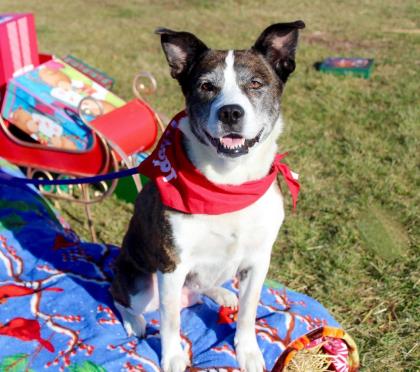 Adoptable Pet Spotlight: Ruby
Is a forever home right around the corner for me? I've been waiting for one for awhile now and with the new year here, being in a home is all I want for the year 2022. I'm Ruby, a wonderful 6 yr. old sweetheart of a girl. I'm smart and know several commands and, since I love treats, I'll happily learn more! And toys....let me at 'em! I'll even play fetch, if you like. And if you're busy, I'll find a way to play with toys all by myself! When you sit down, be prepared....I think I'm a lap dog even though I weigh 50lbs! I adore getting full body cuddles. I'm house-trained, going to the door to tell you it is potty time. And while I do love older children, the crazy antics of little ones is upsetting. I'm not a fan of other dogs and would prefer being an only pet. Stop by and meet silly, happy, fun, adorable me!