Giving Tuesday is Almost Here!
Your donation on Tuesday, November 30 will go to the Tails Medical Fund, which supports the most vulnerable animals cared for at Tails Humane Society.
This #GivingTuesday, we are raising money for the medical fund because:
Every pet deserves medical care!
Will you choose to support Tails Humane Society on this national Day of Giving?
Our goal this year is to raise $20,000 for the medical fund, which helps us:
Provide basic medical care to all homeless pets
Provide extensive medical procedures such as amputations when necessary
Treat animals suffering from heartworm disease, parvovirus, URIs and more
Spay/neuter and vaccinate all dogs and cats before adoption
Please, help us reach our goal with your donation this Giving Tuesday!
Save the Date! Our Holiday Yard Sale is December 4!
Save the date and join us for our annual Holiday Yard Sale on Saturday, December 4 from 9am-1pm!
This fun shopping event features discount prices on hundreds of items new or like new - most in their original packaging! This sale doesn't just feature pet items (though we have plenty of that!) but also kitchen items, bedding sets, area rugs, holiday decor and more.
Find great deals while supporting homeless animals - 100% of proceeds benefit the animals in our care!
Early Bird Special: For a $10 donation, you can enter the building at 8am to shop for the best deals!
Pro tip: Save the date and RSVP to our Facebook event for important updates and event reminders!
Adoption Update: True Love, Miss Piggy!
Check out this adorable adoption update we received from the family of Tails alum, Miss Piggy!
"We adopted Miss Piggy 6 months ago, and our little family went to Michigan this weekend to celebrate! Miss Piggy has quickly become the center of our world. We have fully embraced becoming Miss Piggy's Mom & Dad (we even got the matching shirts that say so!). Thank you Tails for bringing us our little princess!"
We love updates! Please send your updates to pictures@tailshumanesociety.org and be sure to follow us on Facebook for more happy endings!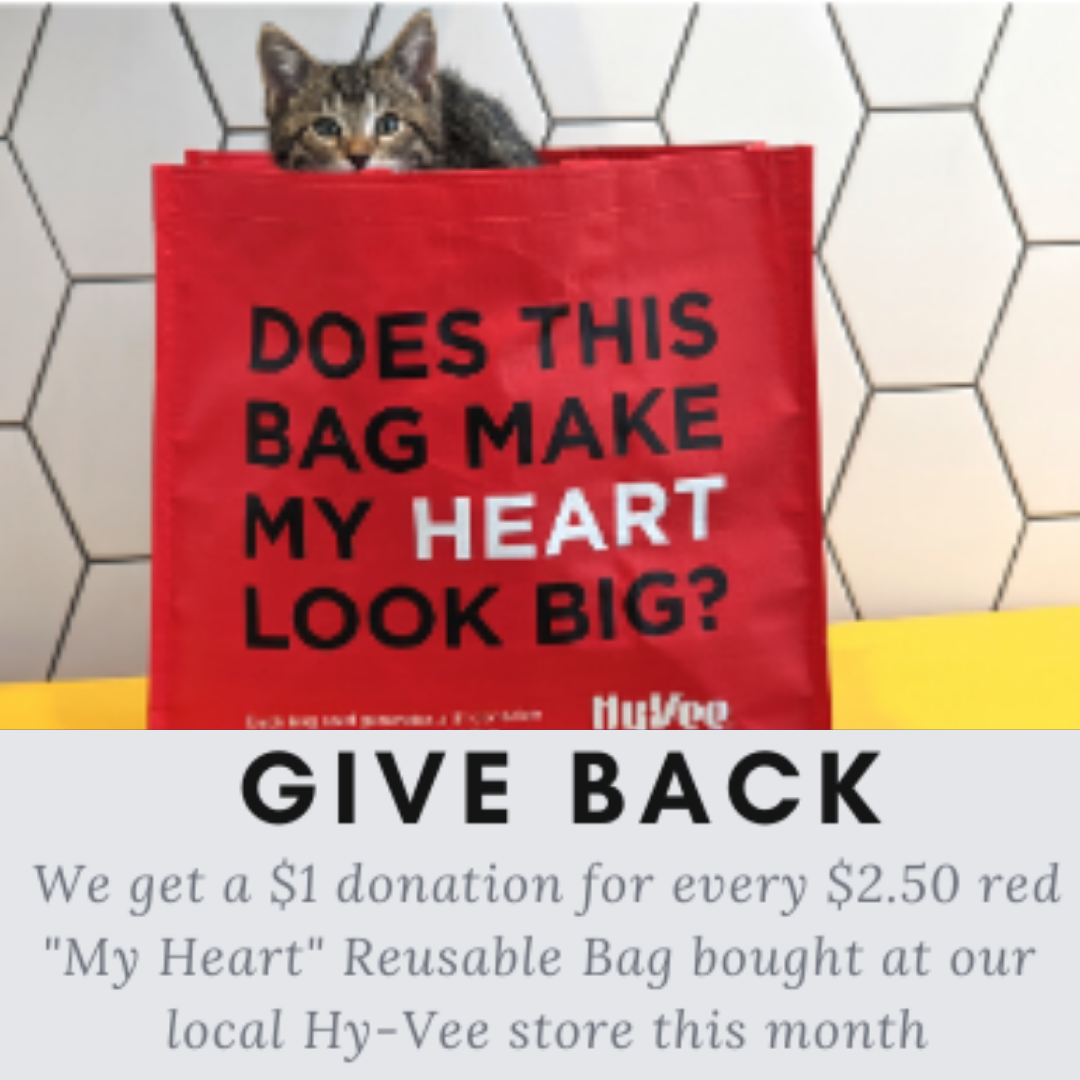 Want to give back? Support Tails Humane Society and the environment when you purchase a reusable shopping bag!
It's easy, just visit our local Sycamore Hy-Vee and purchase a $2.50 red "My Heart" Reusable Bag and Hy-Vee will make a $1 donation to Tails for every bag sold in November!
Learn more about the My Heart promotion here.
Treat Yourself and a Homeless Pet!
While you're out and about this holiday season, why not take a break and treat yourself to a delicious meal at Raising Cane's Chicken Fingers . While you're there, make sure to bring home your very own adorable puppy to cuddle with! Whether you choose Charlie or Snoopy, you can feel good about your purchase because, for every plush Peanuts Puppy sold, Raising Canes will donate the proceeds directly to the animals in our care at Tails! It's a win-win for everyone!
Thank you to Raising Cane's Chicken Fingers for being such a great supporter to the animals at Tails!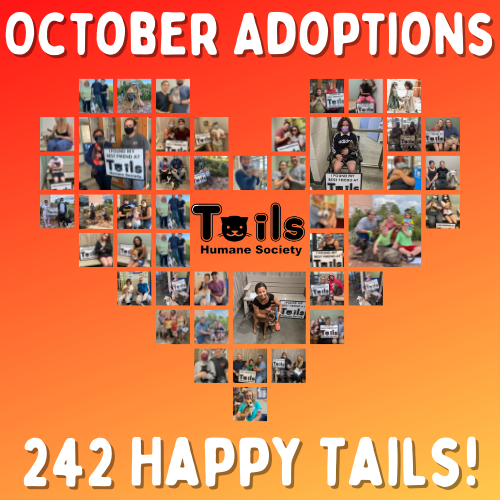 Time to Celebrate! During the month of October, 242 pets were adopted at Tails! This brings our year to date total to 2,381 animals adopted as of October 31st! Those are a lot of Happy Tails in happy homes!
October 2021 Adoptions
117 Cats and Kittens
117 Dogs and Puppies
8 Little Critters
View our adoptable pets here and don't forget to check out all of the amazing long term dogs in our Forget Me Not Club!
Extra! Extra! Read All About Our Upcoming Events!
Tails Team Tie-Dye Night!
Did you know that November 7-13 was National Shelter Appreciation Week? Observed during the first full week in November, it's purpose is to celebrate and recognize the shelters that provide care to millions of homeless animals in America. Yes, millions! The observance also acknowledges the hard-working people supporting those efforts with their work at the shelters. We know that our team works hard every day to care for the thousands of homeless pets that come through our doors each year. So, we recently had a fun team building night at Tails where staff members met, enjoyed some snacks and tie-dyed new staff t-shirts together. Shelter pup Fawn even joined in on the fun as a special guest that night! Thank you to each and every staff member for all they do to make a difference in the lives of the homeless pets in our care.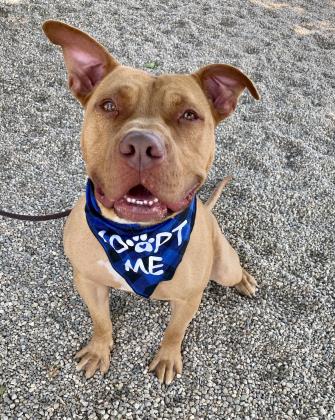 Adoptable Pet Spotlight: King Zeus
King Zeus has been in our care since August!
Feeling lonely? I bet that I can fix that with my handsome face! The name's Zeus and as you can see by my photo, I wasn't joking. I'm one good looking 4 year ols pup! Bandanas are my favorite accessory, but what I'd really like is one of those fancy ID tags on my collar that says I'm yours. That's right, I want a home of my own. A family to love me not just for my stunning smile, but for me and my great personality. I'm a almost 4 year old boy, so I'm past all the puppy stuff but still have lots of energy, love and years left to share with you. I love people and I am eager to please, so I would love to go to training class and learn how to be a perfect gentleman. (Lucky for us, it's included in my adoption fee!) Also, since I am such a king I need to be your one and only animal in the home! Won't you come to Tails and meet me today? I'll be waiting!
PS... My adoption fee has been FULLY sponsored by a volunteer, and also in loving memory of a special dog named Liberty.